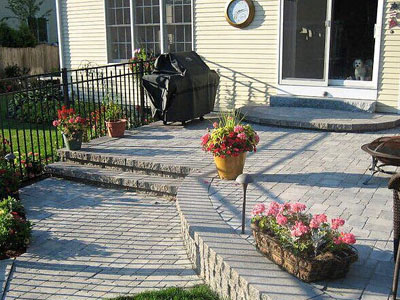 Mike's Lawn and Garden is one of the most well-recognized names in the hardscaping industry in Little Compton, RI. We have the skills, expertise, and experience to design and install all types of outdoor living features, fire features, handle retaining walls, and paver installations. Installing a custom outdoor kitchen in your yard is excellent if you like hosting parties and preparing meals for guests in the fresh air. Including fire features like fireplaces and fire pits is a great way to increase the yard's functionality and comfort level. We can also install a BBQ in your outdoor fire pit if you want to use it. If these areas are well-designed, you are more likely to utilize them often. You can come to us for everything related to outdoor living, including decks, patios, outdoor kitchens, fire pits, and more. To guarantee your complete satisfaction with our work, we assist with selecting materials and installing them according to established industry practices.
PAVERS
Outdoor spaces constructed from high-quality materials and designed to blend in with the rest of the backyard's hardscaping need far less upkeep and care than those that are haphazardly put together. P avers are an excellent building material, and we recommend their use to our clients. We install premium pavers on patios, decks, walkways, pathways, and other outdoor surfaces as part of our comprehensive hardscaping services. Due to the wide variety of paver products available, we provide you with all the details you'll need to make a wise purchase. There is a broad range of pavers to choose from in terms of form, size, color, and pattern. The experts at our company can help you design a patio, deck, driveway, entryway, and surrounding walkways that lead to your yard or landscape. We build custom paver installations at the lowest possible cost, so you can enjoy stunning outdoor areas without spending a fortune. If you have residential or commercial patio requirements, our skilled team is here to help.
Read More About Pavers »
RETAINING WALLS
Erosion and sloped terrain both benefit significantly from retaining walls. We often recommend installing retaining walls in outdoor areas with a poor grade. We can't overstate the value of high-quality supplemental elements like these if you've ever had to deal with flooding on your premises. Our experts can design custom built-in planters and seats to enhance the look and functionality of your retaining walls and area. Our work on your retaining walls will increase your property's value and beautify your landscape. Wood, metal, brick, and concrete are all used to construct these structures. By collaborating with us, you will get a customized solution that caters to your requirements and improves your outside area. We have designed and built dozens of retaining walls of varying sizes and complexities. We use the best plans and ideas during retaining wall installation using top-quality materials and construction techniques, providing you with the value you expect.
Read More About Retaining Walls »
CUSTOM STONE & VENEER
Stonework is a subset of landscaping that involves using specific techniques to build different hardscaping features. We can construct retaining walls, boundary walls, garden walls, sitting walls, edging, curbing, and more from various materials, including natural stone, masonry, brick, and mortar, boulders, pebbles, and more. We propose veneer installations if you desire the elegance of stone at a lesser price and of equal or better quality. We are professional landscapers, so we know how vital hardscaping is to the health and durability of any outdoor space. That is why we're so careful about the quality of everything we sell and install. The product will consistently be flawless in both form and function. These buildings' resilience to the effects of weather is essential, as is the financial return they bring. While planning and constructing buildings with sandstone, masonry, or veneer, we always keep this in mind. We invest the time to learn about your needs and include your feedback in the design process to create personalized, high-quality outdoor additions for your home.
Read More About Custom Stone & Veneer »
OUTDOOR KITCHENS & BBQ
It might be hard to drag yourself off the couch on the weekend, but once you have an outdoor kitchen set up, you'll want to use it again and again and entertain at home rather than head out. We create aesthetically pleasing and practically usable outdoor living spaces for your house, complete with amenities like grills and seating places. In designing our customers' unique outdoor kitchens, we prioritize their needs while considering aesthetics, use, and longevity. The countertops in an outdoor kitchen might be U-shaped/straight/L-shaped, or they can have a kitchen island. Depending on your preferences, we may build an island specifically for the BBQ or work it into the existing kitchen counter design. When you hire us for hardscape design and planning, we'll help you maximize the potential of your outside areas to expand your home's living space and boost its aesthetic appeal. We guarantee that your outdoor areas will look fantastic and endure for a long time because of the personalized attention we give.
Read More About Outdoor Kitchens & BBQ's »
FIREPLACE & FIRE PIT
Having a fireplace or fire pit installed on your property immediately improves the ambiance and increases the functionality of your outdoor spaces. Prefabricated fireplaces and fire pits are widely available and might simplify the assembly process. However, they are all rather generic in appearance and won't do anything to give your home its own identity. If, on the other hand, you choose our customized services, you can be confident that your property will be the talk of the neighborhood. When it comes to installing fireplaces, we are the go-to experts. We can design and construct walls with seats to meet your unique specifications and create the actual elements themselves. In addition to providing a place to relax and entertain guests, you get a feature that will add to your property's value. We can design and build fireplaces and fire pits from the ground up or replace an older one on your property.
Read More About Fireplace & Fire Pits »
PAVER CLEAN AND SEAL
Brick, sandstone, or concrete pavers may lose their luster and rich color because of rust stains, ordinary environmental wear and tear, and efflorescence. Cleaning your pavers is the first step towards bringing back their natural brilliance. Our professional surface cleaning tools can safely remove years of dirt, dust, rust, discoloration, or mildew. This critical step is necessary because it unlocks your pavers' natural beauty from the bonds of unsightly contaminants, giving us a "clean slate" to work with in the cleaning phase. Finally, we can apply a glossy or matte sealer to complete the paved surfaces look. Your pavers will retain their beauty and durability no matter which sealer you choose. We clean and seal pavers to industry standards for both commercial and residential clients, giving you beautiful, long-lasting outdoor environments. We use effective yet gentle products in our paver clean and seal work, so your pavers retain their condition while looking great.
Read More About Paver Clean & Seal »
EXCAVATION
Excavation and digging are essential to almost every landscaping job. Performing them safely and competently calls for careful preparation and forethought. Our company does excavations for extensive landscaping and drainage installation, and we do the same kind of work for landscaping renovations and additions. No matter how simple or complex your problem may be, we can help you find the optimal answer. We have years of experience and can advise you on the best course of action for any excavation or landscaping job. In both commercial and domestic projects, we use cutting-edge tools and methods to guarantee a problem-free and timely conclusion. Feel free to contact us so we can discuss your needs with a representative of our knowledgeable and trained staff. Our competent, educated, and proactive team will provide you with the best excavation services at the lowest possible price.
Read More About Excavation »
LOW VOLTAGE LIGHTING
With low-voltage lighting, you can brighten your home or business without racking up astronomical energy bills. Some buyers believe that low-voltage fixtures cannot provide sufficient light. On the contrary, the opposite is true. Low-voltage lighting is sufficient to achieve the desired effect. We also increase energy economy with LED lighting by installing dimmers, controls, motion sensors, photodetectors, dimmers, swaps, relays, and timers. With the help of high-quality, low-voltage bulbs and fixtures, our trained technicians can set the mood with a moonlight effect or highlight a specific area. For optimal results, they may adjust factors such as where fixtures are placed in the landscape, the orientation of lights, and the wattage of bulbs. Low voltage sensor lights, installed with our assistance, have a low operating cost since they turn off automatically when they aren't in use. If you're looking for affordable outdoor lighting, we can help.
Read More About Low Voltage Lighting »
At our company, we believe that your outdoor living space should be a beautiful and functional extension of your home, and we focus on providing high-quality services to help you achieve this. Our services include outdoor kitchen installations, paver installations, low voltage outdoor lighting, fire feature installations, custom stone, veneer installations, and retaining wall construction. We use only the best materials and construction techniques, and our experienced and skilled team will work with you to bring your vision to life. With a focus on quality and craftsmanship, we are committed to delivering exceptional results that exceed your expectations. If you're ready to transform your outdoor living space and create a beautiful and functional living area,
contact us
today, and let us show you what we can do. You can call Mike's Lawn and Garden team at 401-835-6934 and discuss your outdoor living or hardscaping requirements.